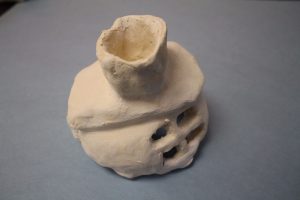 Hey Friends!
Do you have a kiln in your class? Cause I do! When I first heard, I was so excited to be able to make clay this year. So for Christmas we got to make these beautiful clay houses. I was sadly away when everyone made their house's so I had to make mine a little later and won't be home for Christmas but I still thought I would write about the processes and stuff!
So the first step is to make the house. You start out by making a ball of clay and the push your thumb into it making something called a pinch pot. You then start to mold the clay to make a dome. To help keep the figure we placed it on a flip container with a ball of paper towel on the top and Sarana wrap holding it down. Then you start the procedure on smoothing all the finger prints out. Since it is winter, the house has a layer of snow on the top. We did this by rolling a piece of clay out like some cookie dough. To attach it you use the method Scratch to Attach. You make scratches all over one side of the clay cookie dough piece and all over the base of your house were the snow will be placed. Then you spread the substance called Scratch all over the snow and finally place it on to the base being sure to get out all the air bubbles. We then added windows, a chimney, a door, and any other accessories we wanted.
After letting it sit for 6 days…… Our teacher runs the kiln and all our clay houses get baked! The kiln was running in our class today and it was so hot! Everyone also got to look through a hole in the kiln and see what it looks like inside. It's all orange and just looks so crazy hot! It gets up to 1900 degrees! We in reaches 1900 degrees it shuts of but you have to let it sit over night to cool down before opening the lid or else the house would exploded!
After the houses are cool, you get to add color by glazing it.  It's important to read the label of the glaze because it looks very different compared to what it looks like when it comes out of the kiln for the final time. You do 3 coats of each color you want, letting it dry in between.
It goes into the kiln for the second time and the matte glaze turns into a gorges glassy texture.
Thanks for reading! And don't forget to comment. Have a wonderful day!
Olivia