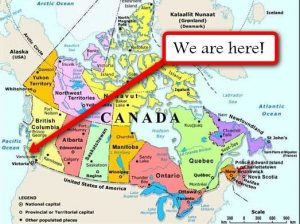 Hello Readers and Fellow Bloggers!
My Name is Olivia and I recently turned twelve this October! As you can see on the map above, I live on Vancouver Island. I have a younger sister and two older ones as well as an older brother. I am in grade six and have Ms. Smith as my teacher this year.
I love anything musical! If you are one of my classmates, you know I love to sing. I do not YET know how to play any instruments, but I am very eager to learn! I have participated in my school's Christmas concert choir for the past two year and am planning to continue.
I also am a dancer. I take an acrobatics dance class once a week. Dance is a place that I challenge myself and work hard, probably the hardest I work all week. It takes a lot of control and skill. I would have never tried it, but my friend pushed me to sign up!
My mom and I love to decorate. In another life my mom says that she would be an interior decorator. Right now, she is a teacher, like my Dad, and lots of other people in my family.  This Halloween, we went to the dollar store. Bought about 1 million dollars worth of decorations! Then worked on our Halloween costumes and made our are house a fair bit more spooky, but hopefully you will get to hear more about that later. Any ways, my Mom is amazing at that sort of thing, and I loving doing it with her.
I am so excited to start my blog! Hopefully you guess will stick around and you will get to learn more about me and learn some stuff while doing it! Tell me if you guess just have anything in common or if you have something you LOVE doing!
Be amazing!
Olivia